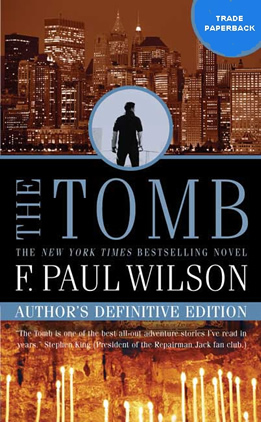 In Jobbing Writer bookworld you can't really beat a decent thriller: detective/private eye potboiler with a cast of miscreants and thugs, and a shining, but flawed, hero will do it for me every time. So when I came across
The Tomb
by F Paul Wilson I assumed I was in for 400-plus pages of shoot-'em-up hokum. But I was completely unprepared for the plot that followed.
It's a corker of a story and unlike anything I've read before. Repairman Jack puts things right, but he's no fixer of domestic appliances. He's an off-the-grid and off-the-wall soldier of fortune who fights dirty, but somehow manages to make his punishments fit the crime.
When his mother was killed in a pile-up caused by a hooligan's 'fun' idea of throwing a lump of concrete off a flyover and onto a passing car, he sets out to find the person responsible and pays him back by suspending him by the feet off the same flyover, then waiting till a few trucks have gone by.
But that's not the plot, that's just Jack's backstory.
He's a bit like a one-man A-Team: if you can find him, maybe you can hire him. He's expensive, but worth every cent. (The book's set in and around what appears to be New York.) Of course his sometime girlfriend Gia knows how to find him, so when her Aunt goes missing she knows just who to call.
Meanwhile Jack's been hired by a one-armed Indian diplomat to find a necklace stolen from an old lady in a mugging. The customer (
they aren't clients - lawyers have clients
) insists that the necklace has to be returned by midnight because the original owner, his grandmother, is dying. Of course Jack succeeds, and is later thanked in a very personal way by the diplomat's sister, who happens to be wearing an identical necklace. (OK. At this point you'd need to be asleep to miss the connection, which would be a shame, because that's the first real hint that this novel is not your usual thriller!)
As the story continues it becomes clear that there's more than a little mysticism going on, including flashbacks to a 19th century raid on a temple of Kali by a renegade member of Queen Victoria's forces, who just happens to be an ancestor of the missing Aunt. That's how the family became fabulously rich, but it's also the time when a young acolyte of the temple lost an arm in a failed battle to stop the looting.
(You still with me here? Should I also point out that the diplomat wears an identical necklace with two large, orange stones that look like eyes?)
That's about as much as I'm going to tell you of the story because I'd hate to ruin such a cracking tale. Suffice to say that Jack finds himself embroiled in a fight with some very unusual opponents, not all of them human.
Since I finished
The Tomb
at the weekend I've also read Repairman Jack #2 -
Legacies
, and I've started onto #3 -
Conspiracies
. There are 15 in all, and I plan to make my way through the lot. Yes, they are that good.